Commercial Siding & Trim Repair Services In the Bay Area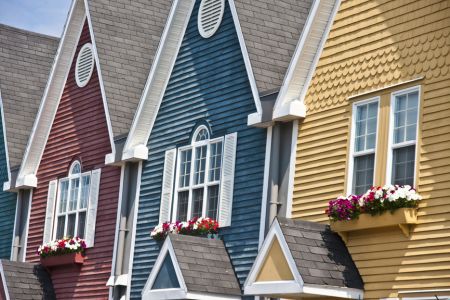 Our professionals at Universe Painting & Construction provide complete commercial siding repair services for your commercial or multi-family building in the Bay Area. Whether the wood trim has dry rot, the steel siding is dented, or you have old aluminum siding, brick, concrete, or any other type of siding that needs to be replaced, we're your local commercial siding repair experts.
The siding of your commercial building represents more than just protection from the weather, it also It contributes to the overall energy efficiency of the building and affects the aesthetic appeal of your business to clients, tenants, or customers.
If it's time to find a commercial siding repair expert in the Bay Area, let one of our experienced professionals assess the scope of the work for you. We have the skill to repair or replace all types of siding on commercial, HOA & multi-family buildings.
100% Satisfaction Guarantee
Commercial Siding Repair & Replacement
Top-Quality Service You Can Trust
Commercial, HOA & Multi-Family Siding Repair
As a local Bay Area commercial contractor, we've completed hundreds of commercial siding repair projects for all types of commercial, multi-family, and HOA clients.
For jobs of this size, your contractor needs to have the manpower and equipment to handle the work in a timely and professional manner. At Universe Painting & Construction, we're well equipped to offer you the quality commercial siding repair service you're looking for on all fronts.
We do more than just repair and install siding, we can provide complete reconstruction for your commercial or multi-family building. Let's get started on your siding repair project by setting up a consultation where we can assess the work and provide you with a competitive estimate!
Commercial Trim Repairs
The trim of your commercial building helps to protect the siding from water damage. If the trim is already rotting, it's not doing anything to protect the building from the weather. In fact, it may be harboring mold, mildew, dry rot fungus, or termites.
If it's time to take care of the commercial trim repairs to stop the future decay of your building, call us. Our professionals can make sure your building is sealed up tight again with our commercial trim and siding repair and exterior painting services.
Dry Rot Repair
Water Damage Repair
Repainting & Waterproofing
Recent Articles
Tips On HOA Painting & Choosing Your Contractor In The Bay Area
Whether you're an HOA board member in the Bay Area or a property manager of town homes, your goal is to complete a successful HOA painting project with the right contractor. The planning you […]
Why Invest In Construction Repairs For Your Multi-Family Property
No matter what income range of tenants you rent to, the construction repairs for your Bay Area multi-family property are a worthy investment. Not only will your complex look marvelous to existing ten […]