Commercial Balconies & Deck Services In the Bay Area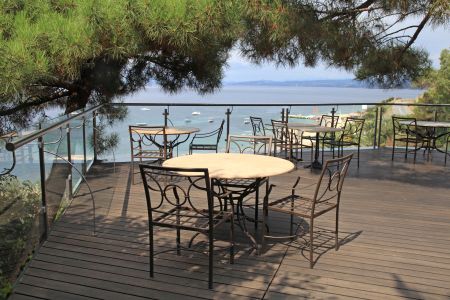 Are you looking for a Bay Area commercial contractor with experience in commercial deck installation or balcony repair? Universe Painting & Construction has the experience you need to properly and professionally repair balconies and build commercial decks of all kinds.
Our commercial deck installation professionals have been serving the entire Bay Area since 2014. Our commercial construction team consists of highly skilled carpenters, engineers, and masonry specialists who have years of experience in commercial and multi-family deck installation and balcony repair.
We back all our work with a 100% satisfaction guarantee and offer superior customer service to help you get your project done in a timely and professional manner.
If you're in need of commercial balconies repair or commercial deck installation in the Bay Area, give us a call today to get started with a competitive estimate and consultation!
High-Grade Materials
Commercial & Multi-Family Balconies & Decks
Serving Businesses In The Entire Bay Area
100% Satisfaction Guaranteed
Commercial Balconies Repair
Universe Painting & Construction has you covered for expert commercial balconies repair in the Bay Area. We have the ability to completely reconstruct the balcony so there's no problem we can't fix.
The scope of every balcony repair job varies widely with some being much more complex than others. Sometimes we just do minor siding repairs and other times the balcony repair project involves reconstructing the concrete, railings, and facade.
Universe Painting & Construction has you covered for all size projects and can ensure the project is as trouble-free for your business as possible. We offer dependable service which is 100% guaranteed to completely satisfy you.
Recent Articles
Tips On HOA Painting & Choosing Your Contractor In The Bay Area
Whether you're an HOA board member in the Bay Area or a property manager of town homes, your goal is to complete a successful HOA painting project with the right contractor. The planning you […]
Why Invest In Construction Repairs For Your Multi-Family Property
No matter what income range of tenants you rent to, the construction repairs for your Bay Area multi-family property are a worthy investment. Not only will your complex look marvelous to existing ten […]